Hello, hello! This is Rachel Hauser of Stitched in Color, popping in as a guest on the Zen Chic blog. Brigitte Heitland gave me the opportunity to quilt her Moda Blockheads Round 2 quilt, and she suggested I quilt it just as I liked. What fun!
First, a little introduction. I am an avid quilter (and quilt blogger) who relocated from the United States to The Netherlands this summer. I have a fancy shmancy longarm quilting machine, which allows me to impart delicious textures on customer quilts and my own.
My mail-in quilting services are available throughout the European Union. I'd be happy to finish your quilt with durable style, whether with edge-to-edge quilting or custom work. Just let me know how I can help!
OK, now that we're acquainted, let's get back to today's quilt!
Brigitte created her Moda Blockheads quilt to match her bedroom, which is in chartreuse and white. She used a range of Moda grunge combined with delightful low volumes from Zen Chic's own MODERN BACKGROUNDS PAPER and MORE PAPER.
When the quilt top arrived in my studio, I was absolutely struck by the variety of exquisite patchwork on display in this modern sampler. Not only is it a collection of some 50+ unique blocks, but the range of scale and playful layout draw you in.
As a quilter, I consider the style of the patchwork, the style of the fabrics and the ideal quilting scale when choosing a design. We must balance the desire for a cuddly quilt with our goal to reinforce the patchwork for longterm durability. A simple, geometric edge-to-edge design would have been lovely on this quilt, which is already so complex. However, that quilting pattern would have needed to be small scale in order to secure the blocks with miniature piecing.
Instead, I decided to custom quilt Moda Blockheads Round 2. A custom approach allowed me to match smaller scale quilting with smaller scale patchwork, while highlighting larger patchwork with splashy, large-scale quilting motifs. I began at the top of the quilt, where I used radiating triangles to frame the oversize, on point granny square block.
Following my inspiration, I custom quilted blocks scattered throughout the quilt. Some elements are repeated when possible, to create a more cohesive finish.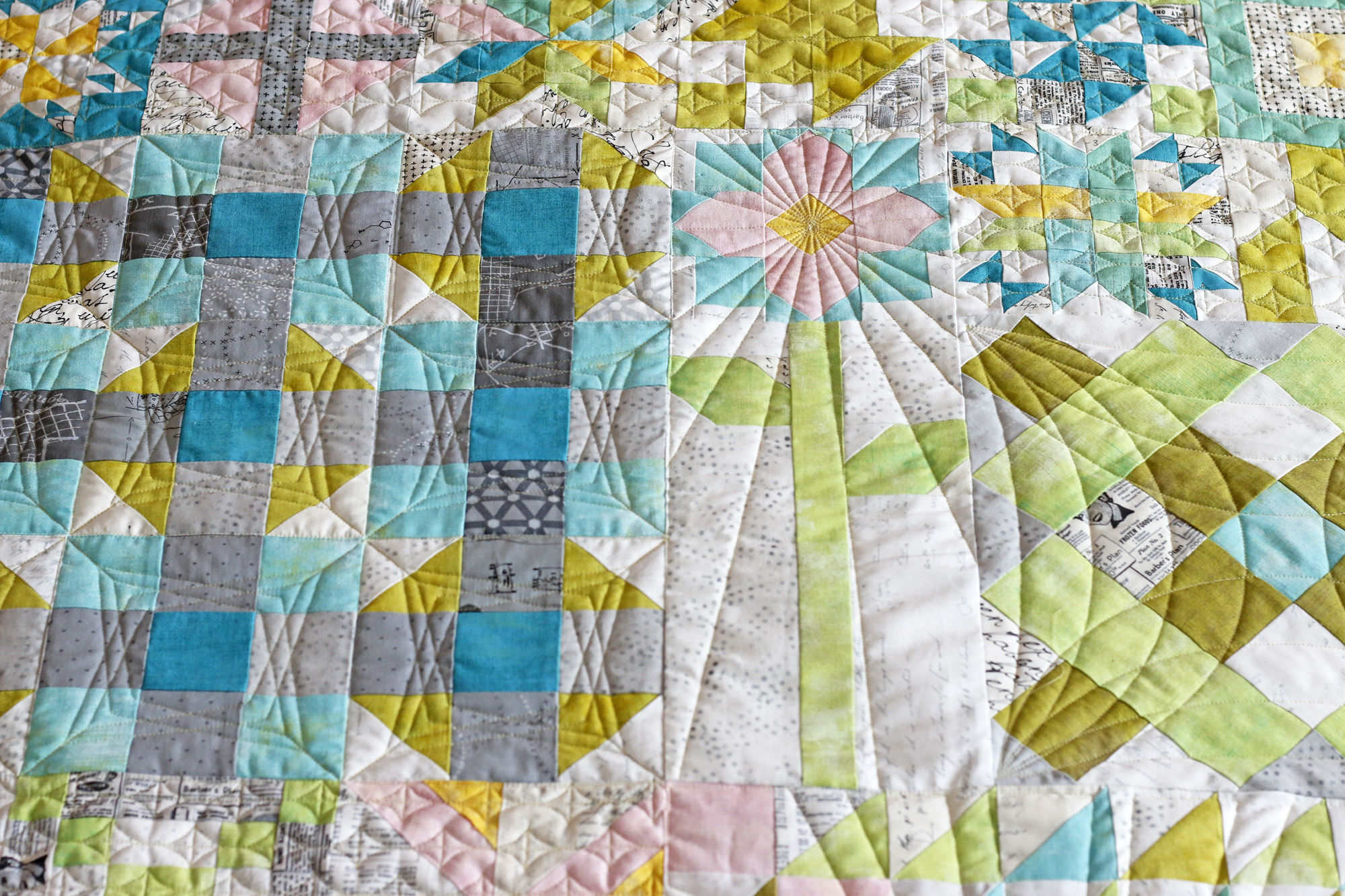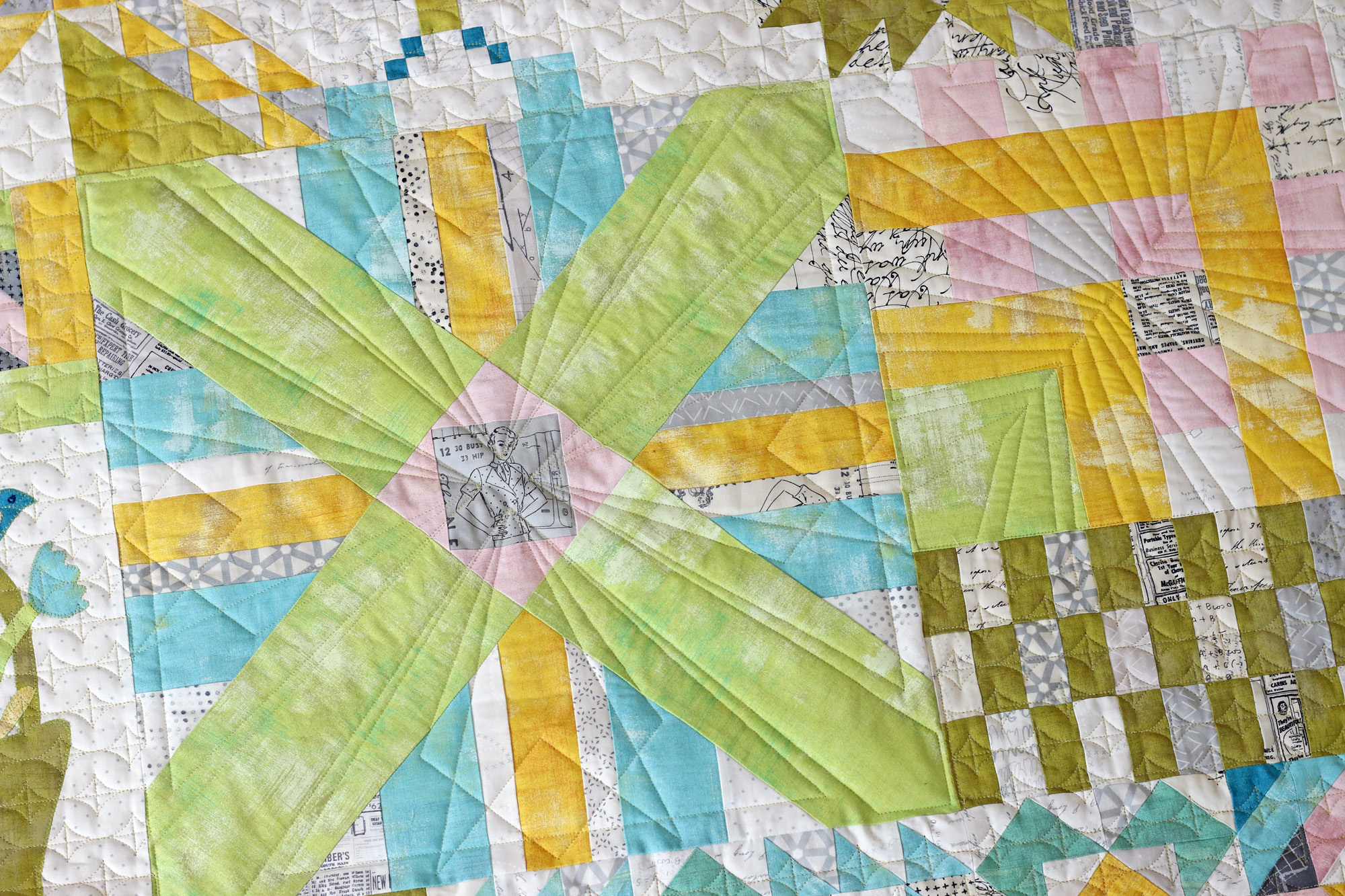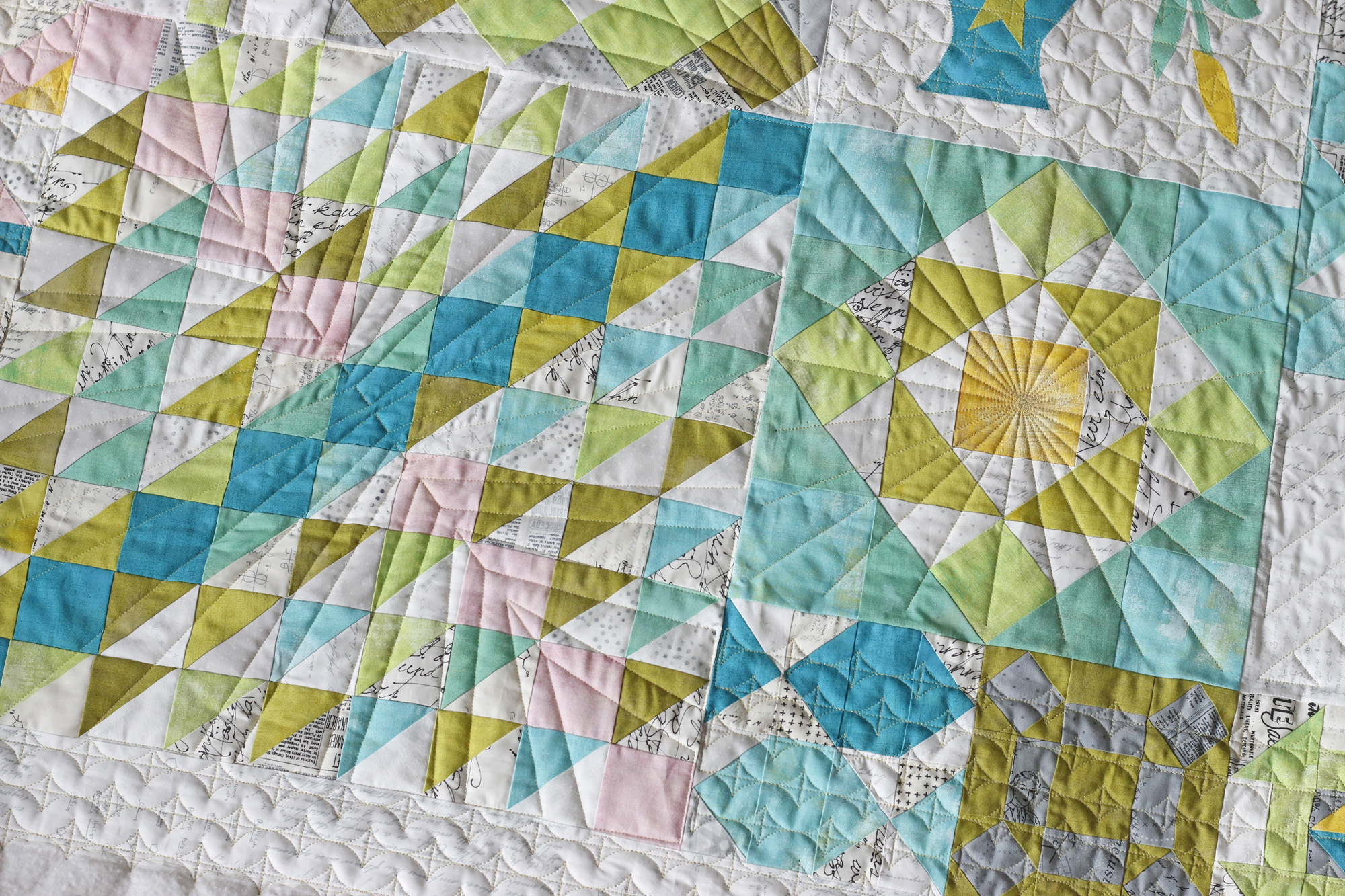 The photograph below shows an oversize block at one of my favorite corners. I enjoy that the diagonal lines mimic the direction of the geese blocks and meet at the middle in the focal fabric square.
In between the focal blocks, I quilted an all-over pattern called Sparkle. It brings both curve and flash to the "background" quilt blocks.
The resulting texture really demands to be touched!
Thank you, Brigitte, for the opportunity to quilt this very special project. It was truly a pleasure. I hope you very much enjoy adding it to your personal collection!
p.s. If you're a Zen Chic fan, you may like to pop over to Stitched in Color today, where Rachel is sharing the story behind how she and Brigitte met and are working together lately.